Hey All!!
How many have seen the Casagrandes? The entire first season is now available on DVD non a 2 disc set. You have the option to watch in Spanish.
There's plenty of love, laughter, food, and adventures in The Casagrandes: The Complete First Season DVD! This spin-off from the award-winning animated series The Loud House follows Ronnie Anne, a free-spirited and skateboard-loving 11-year-old who moves to the big city to live with her large and lovable Mexican-American family, the Casagrandes. Featuring all 20 episodes from the critically acclaimed debut season, this DVD release sees Ronnie Anne adjust to big family life in the city as she pitches in at the family Mercado, explores the neighborhood with her best friend Sid, and has fun with her abuelos, tíos, and primos.
The Casagrandes: The Complete First Season episodes:
Disc One:
Going Overboard / Walk Don't Run
The Two of Clubs / Vacation Daze
New Haunts / Croaked
Snack Pact / The Horror-Scope
Arr in the Family / Finders Weepers
Stress Test / How to Train Your Carl
Operation Dad
Flee Market / Copy Can't
Away Game / Monster Cash
Trend Game / This Bird Has Flown
Disc Two:
V.I.Peeved / Señor Class
Fast Feud / Never Friending Story
Grandparent Trap / Miss Step
Slink or Swim / The Big Chill
Karma Chameleon / Team Effort
Guess Who's Shopping for Dinner? / New Roomie
Mexican Makeover / Uptown Funk
Bo Bo Business / Blunder Party
Cursed!
What's Love Gato Do With It? / Dial M. for Mustard
For some extra fun, create some Mexican Tortas to have while watching!!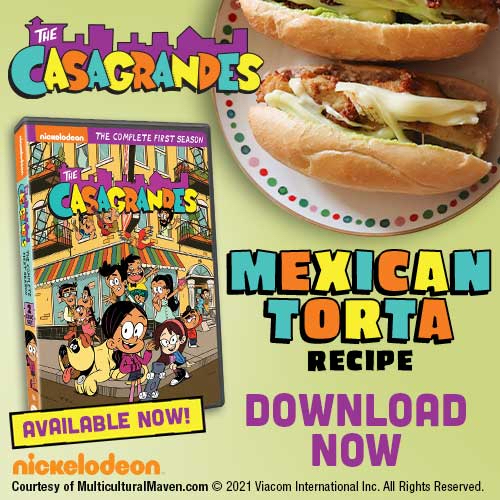 Thanks for stopping by today!!