Hey Neighbors!
How's everyone doing? We have been swamped recently... it seems like the busyness never ends! Today, I wanted to take a couple of minutes and tell you about a company I just recently found out about --
Before we get started with my review, let me tell you a little bit about Fit Snack... Fit Snack is a monthly subscription where you receive a BOX-FULL of healthy snacks! "

Each Fit Snack box is packed with the most delicious and healthiest products on the market. We strive to include a diverse experience of full and sample size items that are as good as they are good for you. Every box is different - half the fun is getting the mystery box of goodies delivered to your door each month.

"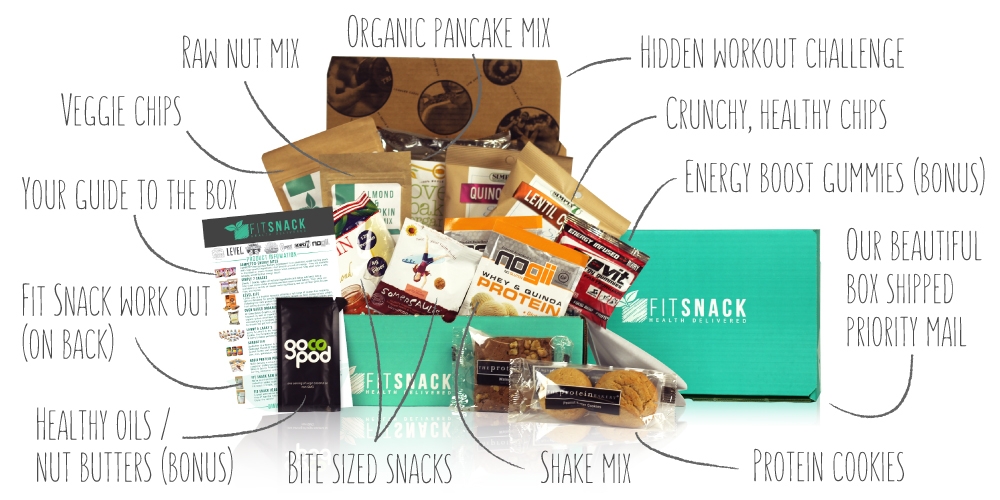 The box I received included the following items... Fit Snack Veggie Chips, Fit Snack Raw Almond & Pumpkin Mix (I love that these are
Fit Snack
products!), 2 Samples of NoGii Protein Powder (made with whey and quinoa - two major things that my sister looks at) 1 Chocolate/1 Vanilla, 1 Lenny & Larry's Complete Cookie, 1 Level Life Caramel Chocolate Peanut Protein Bar, 2 Creamy SunButter pouches, 1 Simply 7 Quinoa Chips and 1 Lentil Chips, 1 Oven Baked Organics Pancake Mix, and 1 box of Chocolate flavored energy bites from Compete! Okay, I think I listed everything. Like I said, this box is CHOCK-full of snacks that are actually good for you! Oh, I almost forgot... it also includes a sheet of all the items in the box, as well as a Fit Snack Workout on the back of the page.
My family was really excited when I pulled the box out, and showed them what was inside. Most of the family is really trying to eat healthier, so this came at just the right time. When you go to join Fit Snack, there are many different options for signing up. You can start out with just one month, or you can do a 3-month plan, a 6-month plan, or even a yearly plan where you get one box a month for a whole year! Another nice feature is that you can do this as a gift. Is a friend/family member trying to be healthier, and yet loves snacks? Sign them up to receive a monthly box of goodies!
So, this is well worth your ordering! You can get it for as low as $13.90 + $6.00 S+H per box/month. That is a great price for all that you receive. You can view the various options on the
Fit Snack website
. You can also
Like them on Facebook
, and
Follow them on Twitter
to stay up-to-date with their latest news, boxes, etc.